Agile has been on the market for over 15 years. More and more individuals and organisations are entering into Agile transformations. Agile promotes a different way of approaching organisations, team work and leadership. In this processes people make the difference.
Agilists have to learn and practice how to design and lead high quality sessions. This is where we get into a grey zone. Too often Agilists "facilitate" without understanding the skills and competencies needed for facilitation. Leading Agile transformations requires specific facilitation competencies and the development of new models of collaborative leadership.
These competencies have been identified and described by IAF – the International Association of Facilitators. Arie van Bennekum, one of the authors of the Agile Manifesto and early adopter of the IAF-competencies for facilitation has combined both areas, Agile and Facilitation, for over 2 decades. Now it has been put together into our program embedding a training on DATE described below called "Facilitation for Agilists" which is focussing on Agilists who want to know more about facilitation.
Who is this training for?
This 2-day hands on training has been specially designed for experienced Agilists that want to develop and practice their leadership and facilitation competencies. As in a gym, participants have the chance to practice how to facilitate Agile rituals, get an immediate feedback, reflect on group dynamics and develop their core facilitation competences. After the training participants can optionally continue to become a CPF - Certified Professional Facilitator (certification delivered by the International Association of Facilitators).

The program is across 2 days divided into 4 major parts:

Positioning the facilitator and preparing a workshop. All organized around the 6 IAF (International Association of Facilitators) competences.

The facilitator's dash board based on the 6 Axis of Facilitation. To be used both in preparation and during the delivery of a workshop

The various angles of group dynamics including intervention techniques based on the 6 Axis, group development models communication styles.

The facilitator's toolbox: facilitation methods and approaches suitable into agile processes;


On completion of this training participants will:


Practice the facilitation of Agile rituals getting a structured feedback;

Expand their own knowledge of facilitation techniques and approaches;

Understand and practice the basics of collaborative leadership and self-organisation;

Become aware of their personal facilitation competencies and reflect on how to improve them.

Have gained knowledge and skills to be used in roles such as Agile coach, Agile PM and Scrum master.
Arie van Bennekum

Co-author of the agile manifesto
CPF (Certified Professional Facilitator)

Arie van Bennekum is a Thought Leader, an expert in international Agile transformations and team fasillitation, Chair of the Agile Consortium International, lecturer at universities and a keynote speaker. He has developed models for organizational competencies, the transformation process, coaching types and other topics which facilitate an Agile transformation.
Arie focuses his energy on leading large agile transformations for large international companies, while researching better ways to integrate the Agile concept.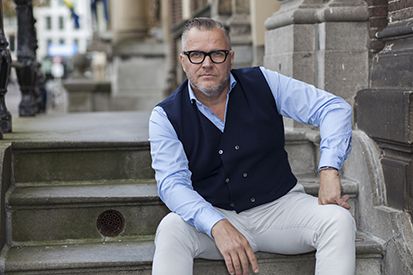 date
November 4 - 5
Duration: 2 days
Location
Mercure Belgrade Excelsior Hotel
Facilities
Training includes materials, lunches, tea and coffee breaks.

After registering with your contact information, you will receive a proforma invoice.
Reserve your seat now.