BIKABLO TRAINING COURSE

The Art of Visual Facilitation


FALL 2020
BeLGRADE
Would you like to visualize your ideas and convey your messages clearly?
Would you like to make your flip charts more attractive and animated without too much effort, using handwriting, graphics, pictograms, and simple figures?
Step into the magical world of visual language and use it to: tell your story, express your ideas and concepts and simplify complex information.
It's easier than you might think. For example, using just simple shapes like circle, triangle and line you will be able to start drawing:

Being able to communicate visually helps to make your ideas more engaging, memorable and easier to understand. It is a creative way to become a better Scrum Master, Agile Coach, communicator, lecturer, presenter and facilitator.
Even if you have never thought of yourself as an artist and visual facilitator, on this training course you will realize that you actually might be one.
On this Bikablo training course you will be guided with step by step instructions on how to make pictograms, figures and graphic elements using the bikablo technique. On completing the course, you will be able to design your first presentation posters and use them right away. You may decide to leave your projector in the cupboard for good. Using simple tips and tricks, you will experience just how easy it is to make even large pin board surfaces eye-catching and lively.
The trainer will reveal the secrets of the bikablo visualization technique, demonstrating how to draw details as well as how to organize the whole story line.
Special attention will be paid to answering questions and tailoring techniques specifically for your needs.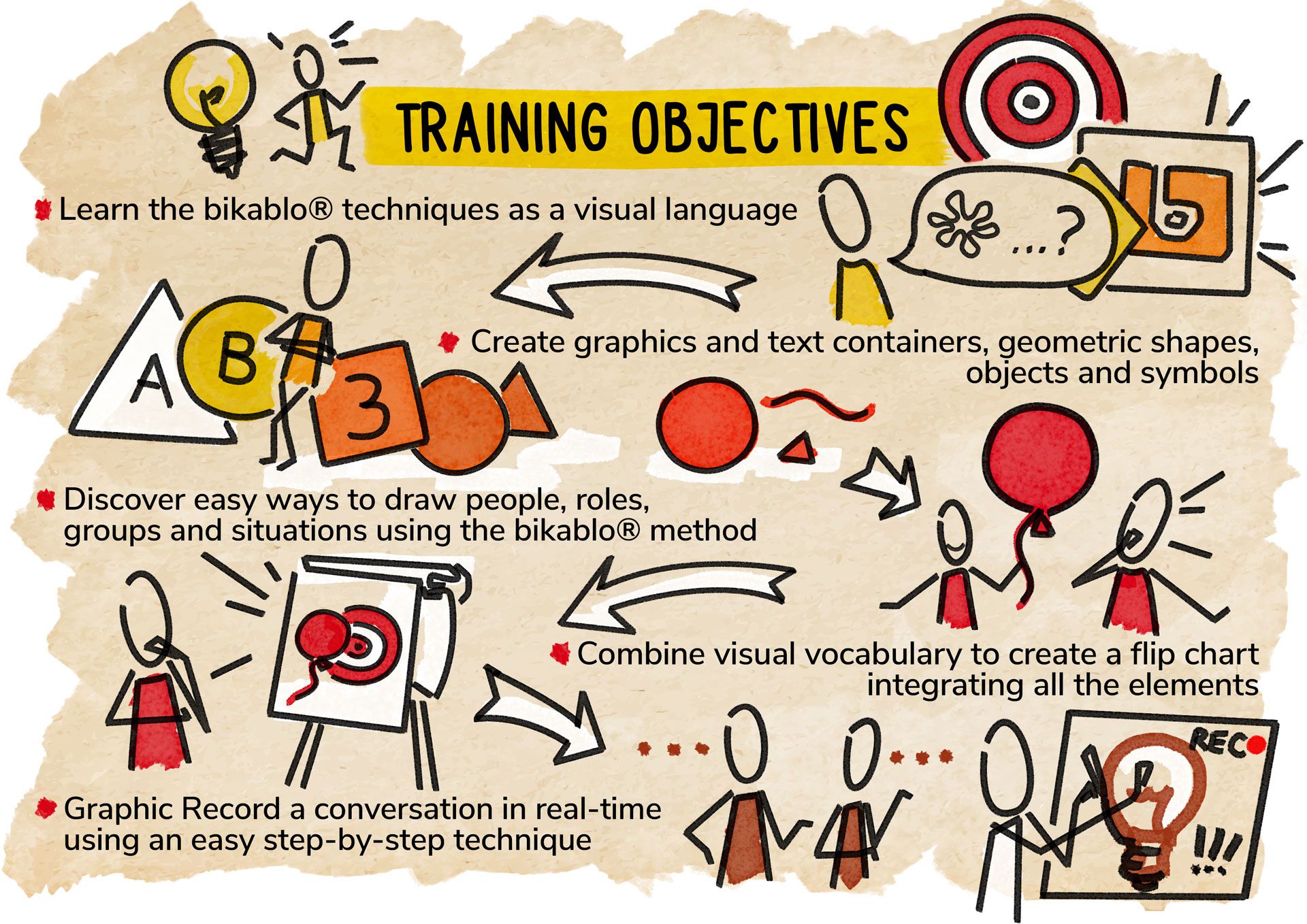 ADDITIONAL BENEFITS

• bikablo® StarterSet: Every participant receives our official StarterSet including four visualization markers and an exclusive StarterBooklet that summarize the principles, content and techniques of the training on 64 pages.
• Photo documentation: For their follow-up participants receive an extensive digital photo documentation of all results.
• A certificate that confirms the participation and lists the content of the training course.
• All participants are invited to our alumni online community where they can find further readings, internet links, tips on tools and materials, image sources and exchange opportunities.
• Every participant receives a 15% discount at NEULAND visualisation products (redeemable once on www.neuland.com ).

DAY 1
Markers and lines on a large scale Working on large surfaces with bold, clean lines and shapes.
Pictograms and figures: discover easy ways to draw objects and people; use these to help animate and clarify different topics and situations.
Shadows and color with markers and pastels: information about tools and supplies.
Visual elements: creating containers, symbols from basic shapes; organizing elements on large scale.
Transforming visual vocabulary into key visuals and diagrams.
Combinations: combine visual vocabulary to illustrate abstract concepts meaningfully and use diagrams to demonstrate complex connections.

DAY 2
Combining text with symbols and graphics
Text - techniques for improving the way you write (on flip chart)
Techniques for real-time visual facilitation of groups and teams
Strategies to visually capture conversations
Creating posters: structure and examples
Application in the professional context
Final project: Flip-chart poster that communicates information from your own daily work, such as an agenda, process, model, or road map.

ON THE BIKABLO TRAINING COURSE YOU WILL LEARN
How to master the right pen grip and clear lines - how to take charge of large surfaces with bold, clean lines.
How to connect basic geometric shapes and create graphic elements and text containers related to the topics and how to make clear statements.
How to combine visual vocabulary to illustrate abstract concepts meaningfully and how to use diagrams to demonstrate complex connections.
How to use colors and surfaces - apply colors and shadows to your visual vocabulary using simple color strategies allowing you to structure large format layouts.


Share
ON COMPLETING THE BIKABLO TRAINING COURSE ALL THE PARTICIPANTS WILL BE PROVIDED WITH
Photo documentation of the training course in a digital format to use as a training reference.
A certificate confirming the participation in the training and a list of the content covered in the course.
An invitation to join the online bikablo® alumni community where you can access further reading, links, tips, and visual inspirations, and connect with other visual practitioners around the globe who have taken bikablo training.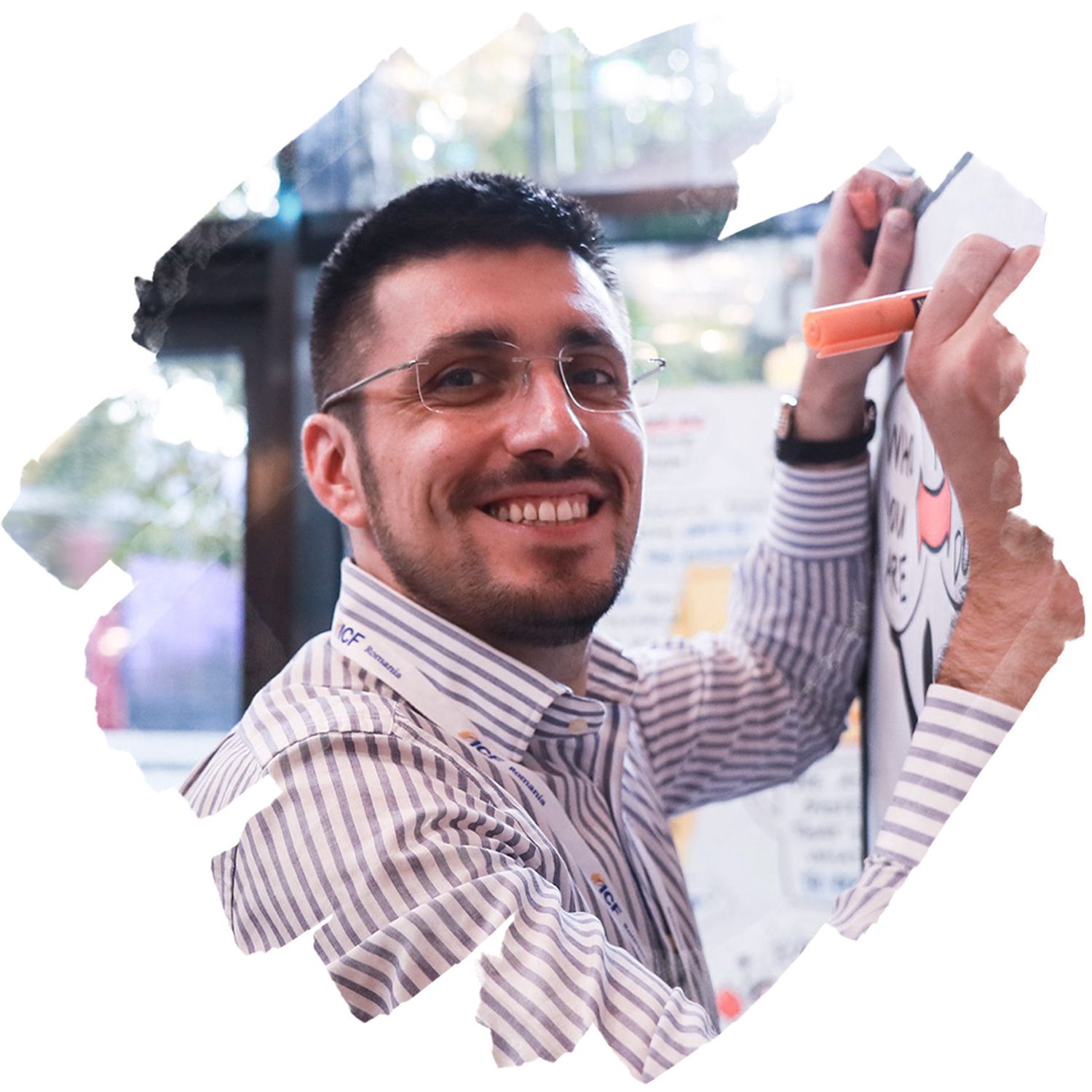 Iulian Olariu
Iulian is trained and certified by the bikablo akademie in Cologne, Germany and is exclusively entitled to offer training according to bikablo concept and under the bikablo brand. Iulian is a professional trainer working in the field of training and development for the last 15 years. He spent thousands of hours facilitating adult learning. His main preocupation, transformed into passion, is to develop high quality training programs, implemented at the highest level. Up until now he had worked with over 60 organizations from a wide array of industries.
In the last few years he started the journey to develop his skills in the field of visual thinking and graphic facilitation. After learning the bikablo techique, he also started to practice graphic recording (capturing the main ideas in a meeting, conference or workshop in real time, right when they are presented to the audience. You can see some of the visual recordings he made recently on his website: www.iulianolariu.com

"I work with people. I believe that everyone can grow and develop with the right attitude. I always strive for high quality learning programs that actively involve the participants to create a dynamic learning environment. My approach is based on intensive preparation and practical application. I look forward to a positive impact and development both for the people and for their organisation."
Iulian Olariu

Includes training materials, lunches and coffee breaks.
After registering with your contact information, you will receive a pro forma invoice.